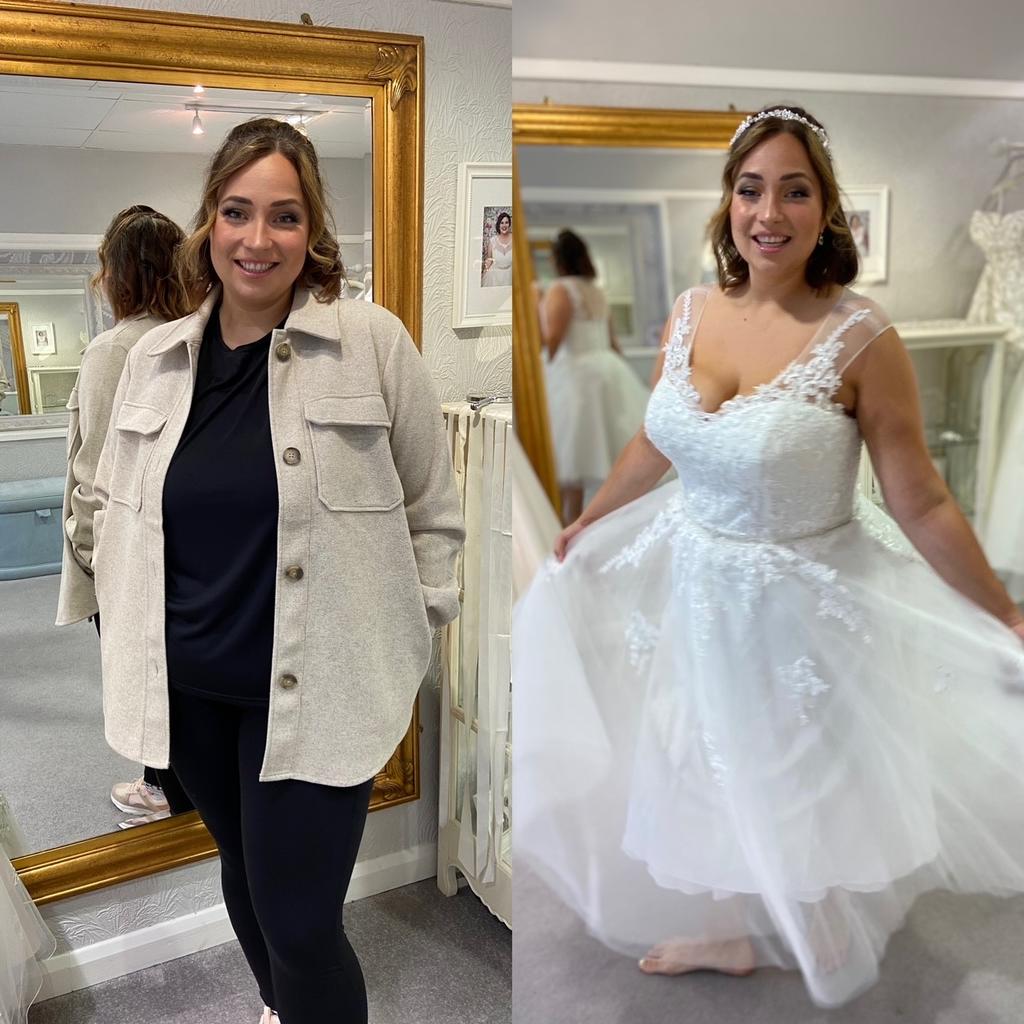 Wedding dress shopping can be stressful no matter your size, shape or age. As Bridal consultants, it's our job to make your experience as enjoyable and easy as possible! Through our experience, we have accumulated a list on the top ten things you need to know before finding your dress in order for your experience to be a memory you will cherish forever!
1. Do Your Research.
In order to get the most out of your appointment you will need to research and chose your bridal shop wisely. Read reviews, follow their socials and stay up to date with their announcements. This will allow you to find a welcoming, friendly shop dedicated to your size. Attending an appointment in a non-curvy bridal shop, unfortunately wont stock dresses designed with curves in mind. Even if they stock your size in a dress, unfortunately the dress wasn't made with the needed structure and boning to flatter your figure. As a plus size bride, it is critical for you to find a shop dedicated only to curvy brides. In a shop dedicated to curvy, all the dresses will have the added structure needed to enhance and flatter your curves, allowing you to find your dream dress with ease!
2. Call Ahead.
It's definitely best to call ahead and book an appointment with your desired bridal shop, to avoid disappointment and to actually talk to your bridal consultant. In doing this, you will be relived of the stress of turning up at the wrong time while also allowing you to go through your wants and needs of your bridal gown (Although most brides choose the opposite of what they envisioned!). Especially because most bridal shops are open by appointment only. Calling ahead also allows you to find a time and date best suited for all involved, its always best to get organised!
3. Happy Faces!
We all have bad days, and that's okay. However coming to your appointment when you are having a bad day will only put a negative light on your experience. Do your best to turn up with a good positive attitude, as well as your chosen guests. This will make the experience much more pleasurable for both you and you guests. After all finding your dress is a major milestone in your wedding journey and you want to make it a fun day to remember!
4. Don't Rush!
Make sure you have enough time in your day to really enjoy your experience, rather than coming while you're in a rush or have places to be. Being in a rush will only put pressure on you and create unwanted and unneeded stress on top of making this decision. My advice?... Make a day of it! Go for lunch afterwards, go for cocktails and make it a day to remember. Whatever you choose to do make it a fun and a stress free day with the girls! This will also allow you to think about your decision and make it an exciting experience for you to cherish forever!
5. No More Than Two.
One of the worst mistakes brides can make is bringing too many people or even he wrong people to their appointment. Brining too many people, gives you too many opinions. This can fluster a lot of brides and unfortunately stop them from choosing the dress they loved due to the opinions of others. Making sure you select the right two people to experience this wonderful moment is also very key. As bridal consultants we do unfortunately see a lot of jealousy amongst the party, so a key tip is to only bring those who are genuine and give opinions from the heart and not anyone who has wished you ill will in the past in any way. We want to see you in YOUR dream dress, no one else's
6. NUDE UNDERWEAR!
In attending your appointment, a key thing is to remember is to turn up wearing nude underwear. This ensures you will get the best look out of your fitting. Wearing any other colour will be seen through the dress. Although the gowns appear thick, they are in fact created using delicate and sometimes sheer fabrics, in which black in particular does give a shadow like outline which can get in the way of you envisioning your dress for your big day. So always remember nude is the way to go!
7. Get Ready!
To get the best vision for your big day, turn up to your appointment with similar hair and makeup as you would on your wedding day. You want to feel and look your best in your dress and in order to really get an idea of how you will look on the day, doing your hair and makeup really does make the world of difference! Especially for photos! Buying a gown isn't an everyday occurrence – it is going to be a tricky decision no matter what – not to mention the potentially unflattering lighting in some bridal shops. Wear a touch more makeup than usual rather than your typical look for running errands. Remember – choosing your dress isn't a regular errand! Looking more like you would on your wedding day will make it ,much easier to find your dream dress!
8. An Open Mind.
Come with an open mind! A lot of brides come with a checklist of what they want in a dress. While knowing what you like is a good thing, the key is to keep an open mind to trying other styles and silhouettes that aren't necessarily what you were first drawn to. This is a once in a lifetime opportunity and you may surprise yourself! It is shocking how many brides leave the shop with a completely different dress to what they thought they wanted. This could be down to structure, material or a number of other factors. Listen to what your consultant has to say! We know what we're talking about and have your best wishes at heart. Be open to suggestions and other options that are recommended. You'll know in your heart which dress you love the most. TRUST YOR GUT FEELING.
9. Stick To Allotted Time.
We respectfully ask you to arrive very much on time for your appointment. We know it's an exciting time for you! However, arriving even 15 minutes earlier could mean you would interrupt the previous appointment and arriving even 15 minutes late could mean your appointment would over run into the next, which isn't fair on the next bride. So it is key to stay organised and give notice if you are running late. if you can no longer make your appointment, please ring and inform the bridal shop.
10. Move Around!
There will be moments when you're standing still on your big day. But you'll also be mingling with guests, sitting down and dancing on the dance floor! If you find a dress that is serious contender, be sure to walk around the shop, take a seat and see how you feel while moving around! Although you may feel silly in the moment, you will be glad you gave it a test-drive when your comfortable all day and night!
Have fun! Its your day to feel special. Try on as many exquisite dresses as your heart desires! It's a once in a lifetime opportunity, so enjoy it and find your dream dress!